When getting ready for the day I always check the weather to see how many layers I need to bundle up in. I am always cold so I need to make sure I am prepared by wearing a few layers in case the weather decides to change.
If you know me in real life or follow my other social medias you can tell that I love a good black, white and grey look. I am drawn to wearing those colours and when getting ready for today I challenged myself to create an outfit that was greyscale but also varied in textures to make my outfit have more depth.
I started with my go to favourite jeans from American Eagle. If you haven't tried these you need to seriously go out and get them! They are super soft and very forgiving with the stretch. I definitely want to invest in other colours and washes!
For shoes I went with my faux leather black booties from Call It Spring. The faux leather texture give more dimension to my legs and makes it look like I am not wearing a head to toe black suit.
For a top I went with this silky black t-shirt buttonup from Forever21. This article has been in my closet for years and I still find I wear it enough to keep it around! This top has the perfect boxy cut that is right on my hip bones but not too tight where it looks sassy. This top is perfect to emphasis my legs and make them look longer!
To add a bit more greyscale into this outfit I went with my black and white knit cardigan from Forever21. This baby helps keep me warm when we experience this awkward middle Spring weather. Its warm enough to wear alone but doesn't make me overheat with how light weight it is. There are few things I find in Forever21 that I love and this is one of them!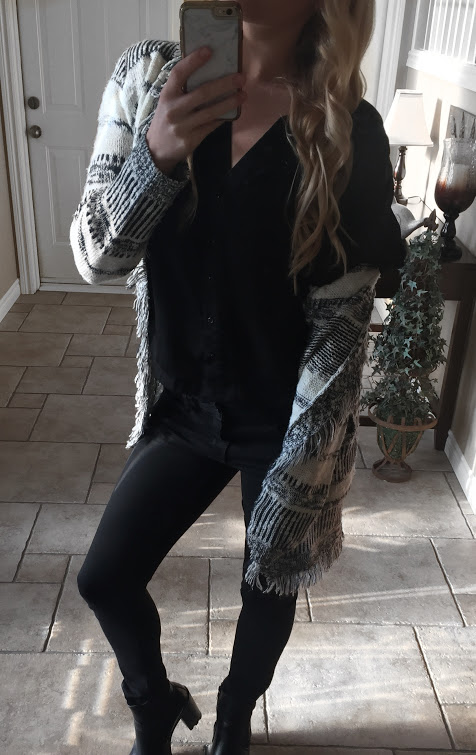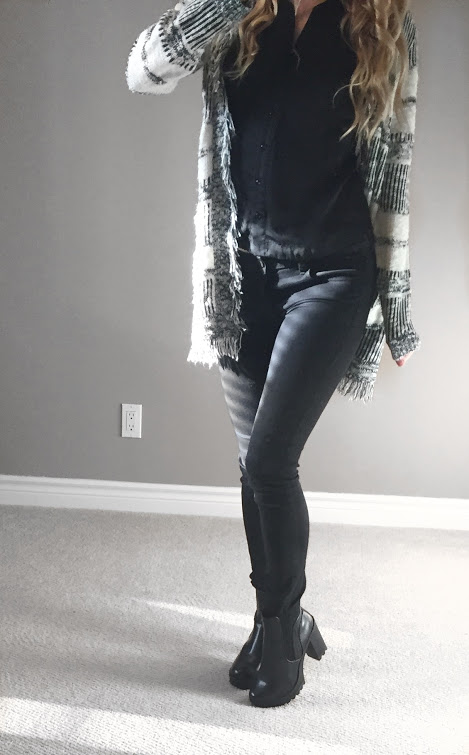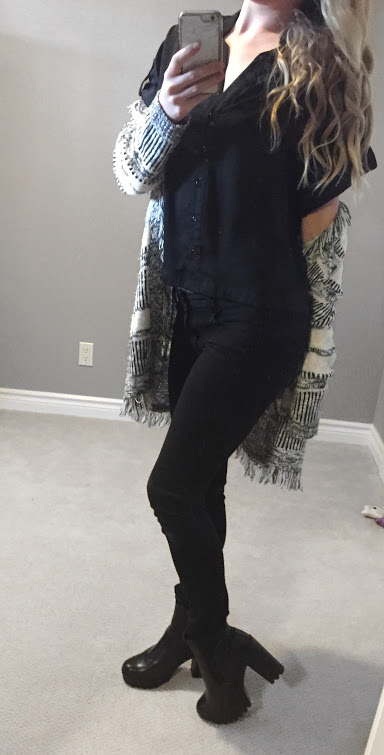 I cannot wait for the weather to warm up a bit and start wearing more spring attire...even though I will probably still be rocking the all black look. Let me know what type of OOTD you would like to see next!
-K