This past weekend I was away on a work trip for three nights and three days. I always find that I pack too many items for the trip (which I still ended up doing this time, but it wasn't as excessive as past times).
Here is a quick look at what I packed for my dressier outfits;
The Packing Process
I find that if I try on the outfits that I am wanting to bring and look in the mirror it will help me decide if this is the best option to go with or will I find something better that I would rather bring to wear.
Once I am set on what outfits I am going to bring I always bring an extra sweater or dress incase I decide I want to wear something different that day You want to have the right amount of outfits but you also don't want to feel trapped in what you brought to wear.
Day One:
When we first got there we had some errands to run and a few things to do before we had to get ready for the night. I chose to wear my olive green sweater with my ripped skinnies and my converse shoes. This outfit was comfortable but also kept me warm in the cold weather.
For the night it was more of a casual evening so I went with a denim shirt, statement necklace, same ripped skinnies & brown booties.
I kept my makeup simple with just a winged liner and some red lips.
This hotel was horribly dry and not only did my skin pay the price but my hair also became full of static. I find that this is a common issue in most hotels that are older and I always have to add oil or double up on conditioner to keep my hair from freaking out. My skin was okay for the first two days but after that I felt very dry and dull.
Day Two:
This night was the dressier of the two. Even though these nights are dressy we still needed to be about to walk around and do things in our outfits. This is why I am loving the skinnies/booties/blouse combo, it is soo easy to just throw on and not have to worry about how short a skirt is or how my feet will hurt after a few hours in heels. This is definitely my go to outfit combination!
The Outfit:
I went with wearing my Black skinnies, black booties, white blouse and the same statement necklace from the night before. (My necklace is from HRH Collection)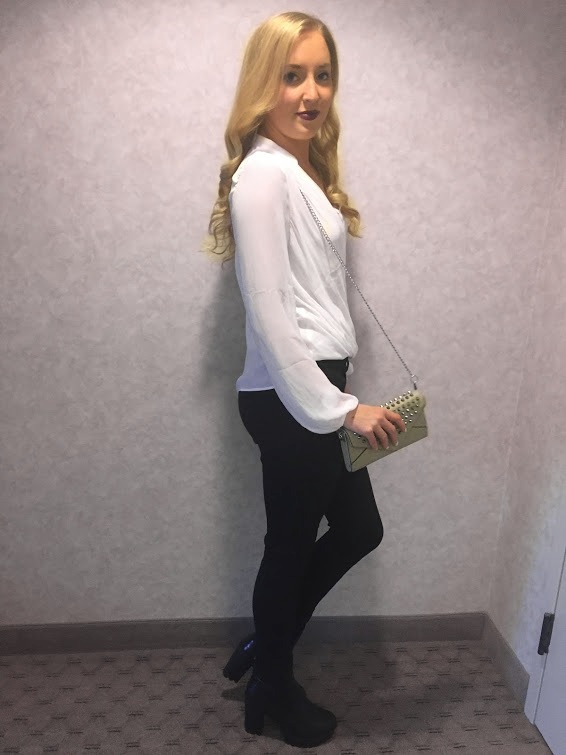 The more I packed for weekends away the more I find a certain style I feel comfortable in and what I enjoy wearing. Next weekend I have an event I am also going to so look forward to a new post next weekend about what I wore then!
-K